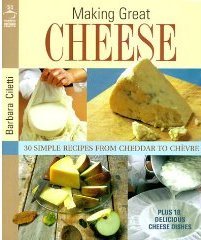 Making Great Cheese At Home
30 Simple Recipes from Cheddar to Chevre
Plus 18 Delicious Cheese Dishes
Published by Lark Books
©1999, Barbara Ciletti
Of all the books I have read on home cheesemaking, this is my favorite. Unfortunately, it is out of print. I recommend trying to find it at your local library to see if you like it, and then consider buying it used at Amazon (as I did):
paperback
and
hardcover
.
This book starts off with a bit of cheese history, which I thought was a nice touch that is often skipped by other books. It then covers the basics of fresh and aged cheesemaking techniques. Following this are 30 cheese recipes (15 fresh, 15 aged), which are then followed by 18 recipes that using cheese.
What really stands out in this book are the beautiful pictures, in color, on every page. The printing costs for this book must have been high. I suspect that is why nearly all of her books are out of print; the cost at which the books would sell would not justify the printing costs.
Learning to make cheese requires learning techniques you do not use in any other type of cooking (e.g. checking for a clean break or cutting curd). The best way to learn these is in a hands-on class. Perhaps the next best way it to see it illustrated with photography like what is shown in this book. If a new cheesemaker were to read this book and study the illustrations, they might be able to start making cheese successfully. The photographs that don't illustrate technique show the finished product framed so nicely that they inspire the reader into making the cheese.
There are a couple of technical flaws, but they are easily overlooked. If I were asked to recommend a book, I would suggest to the new cheesemaker to try to seek this one out.