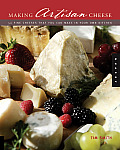 Making Artisan Cheese
50 Fine Cheeses That You Can Make in Your Own Kitchen
Written by Tim Smith
Quarry Books
©2005 by Quarry Books
Rather than buying a ton of cheesemaking books, I have been borrowing them from the local library. I have been placing holds on cheesemaking books and then watching online as my place in the hold queue slowly descends. A few weeks ago Making Artisan Cheese by Tim Smith became available. After reading through this book, I believe I have found a home cheesemaking book I can recommend to the hobbyist who is just starting out.
Making Artisan Cheese starts with a history of cheese and then covers some cheesemaking basics. After this it is divided into three major sections: beginning, intermediate and advanced cheesemaking. Each of these sections separates the techniques needed for the cheeses in the section, from the recipes using those techniques. This is nice because once you know the techniques you can flip through to find the recipes without wading through a lot of text. It also does not burden you with too much technique and theory too fast, and the beginner can start of quickly with making some easy, acid coagulated, fresh cheeses. Though there are a few non-cheesemaking recipes (which I find in other books make it hard to find the cheese recipes), they are nicely tucked away in small insets and in separate sections of the book.
The illustrations and photography are excellent. They need to be in order to learn about cheesemaking from a book (rather than in a classroom). The photos presented look like they are actually homemade cheeses made by following the recipe being presented. This gives me hope that the recipes are tested and well thought out.
I found it hard to skim recipe procedures, as they are written in prosaic form rather than a list of steps. It would also have been nice to include estimated times to complete the recipes and aging times to help the person who is trying to select a type of cheese to make. There were also a few technical errors that were not critical but were slightly annoying. I also miss having a recipe for plain blue cheese (there is blue stilton and blue gouda, but no plain blue).
Even with a few drawbacks, this is my new recommendation for a cheesemaking book for the beginner. It also has the advantage of still being in print, and being available from Amazon. Use
this link
to buy the book from Amazon and give our site credit for your purchase.